Berlin, a vibrant blend of history, culture, and urban excitement, offers a wealth of attractions for explorers. To make your journey through this fascinating city easier, we've curated a list of five unforgettable places to visit in Berlin. Each place shows a significant piece of Berlin's heritage, providing a unique insight into its past and present.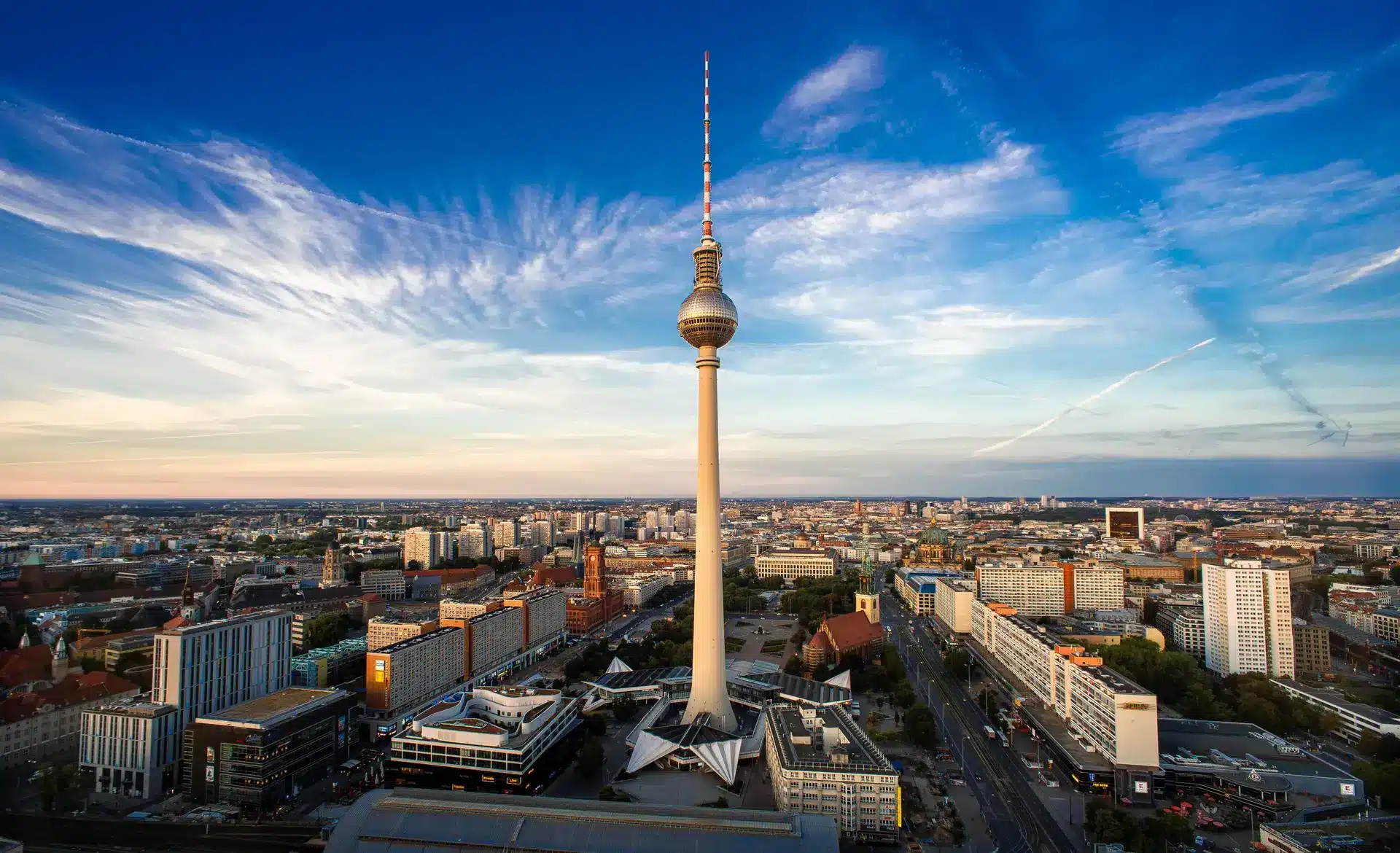 The Majestic Berliner Fernsehturm (TV Tower)
Located in Alexanderplatz, the Berlin TV Tower, or "Berliner Fernsehturm", pierces the city's skyline, guiding both locals and travelers alike. This soaring structure is more than just an observation deck; it's a symbol of East German engineering and Berlin's relentless spirit.
If you want to elevate your Fernsehturm experience, here's some wisdom: arrive early, especially during peak tourist seasons. Morning mists often envelop Berlin, and the tower's view from 368 meters above transforms the city into a dreamy sea of spires and rooftops.
Local tip? Skip the tourist-centric restaurants around Alexanderplatz. Instead, treat yourself to a meal in the tower's rotating Sphere Restaurant. While it's a bit on the pricier side, the 360-degree rotating views of Berlin are unparalleled. Opt for a breakfast or early lunch; it's less crowded, and the soft light makes for brilliant photographs.
A little-known fact: while everyone flocks to the observation deck, the base of the tower offers a unique perspective too. With its reflective tiles, the Fernsehturm mirrors the dynamic life of Alexanderplatz below – a perfect spot for some candid photography after going up.
And before you leave, wander to the neighboring World Clock. This often-overlooked marvel keeps time for zones worldwide, a quiet reminder of Berlin's global connections.
In a city bursting with history, the Fernsehturm stands as a beacon of both past ambitions and future aspirations. So, when you look up, know that you're not just seeing a tower, but a symbol of Berlin's heart and soul.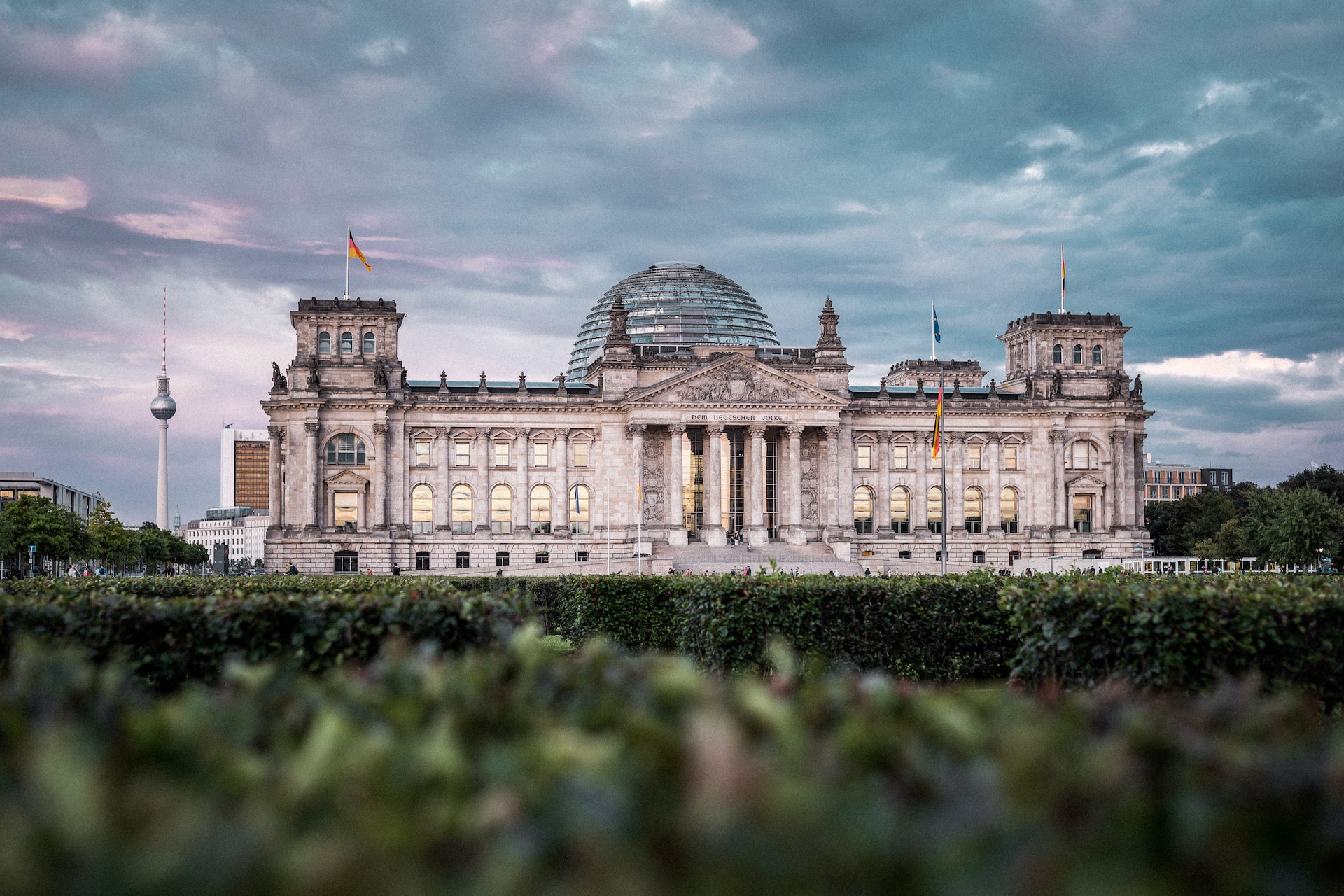 From Fire to Freedom: The Reichstag
Amidst Berlin's popular Mitte district lies the Reichstag, a testament to Germany's rich history. Beyond its beauty and the sweeping views from its famous glass dome, the Reichstag holds secrets that many casual tourists overlook.
The Reichstag is not only the meeting place of the German parliament, but also a symbol of Germany's history and its unification. This iconic building has witnessed the nation's darkest hours and its brightest days. Its resilient architecture and the magnificent glass dome speak volumes about the spirit of the German people. 
First things first: while the dome is a must-visit, the trick to beating the often-lengthy queues is to book your visit online well in advance. Not only is this reservation free, but it ensures a streamlined experience upon arrival.
Now, for a local tip: rather than visit at midday like most, aim for a twilight slot. As the sun dips, Berlin's skyline comes alive, and the panoramic view from the Reichstag's terrace is nothing short of mesmerizing. The interplay of lights from the city's landmarks and the serene Spree River creates a magical canvas you won't easily forget.
While inside, pay close attention to the winding spiral walkway. Along its ascent, there are signs that tell about the building's history, from the fires of 1933 to its reconstruction after Germany was reunited. These stories give a deeper understanding of how strong and determined the German people are.
And once you descend, take a moment to wander around Platz der Republik at the building's front. Lesser-known statues and signs tell tales of Berlin's earlier eras. Finish off your visit with a steaming cup of "Kaffee" at one of the nearby local cafés, where Berliners chat away, removed from the touristic hustle and bustle.
Remember, Berlin reveals itself in layers. The Reichstag, with its mix of old and new, offers a true taste of a city forever evolving.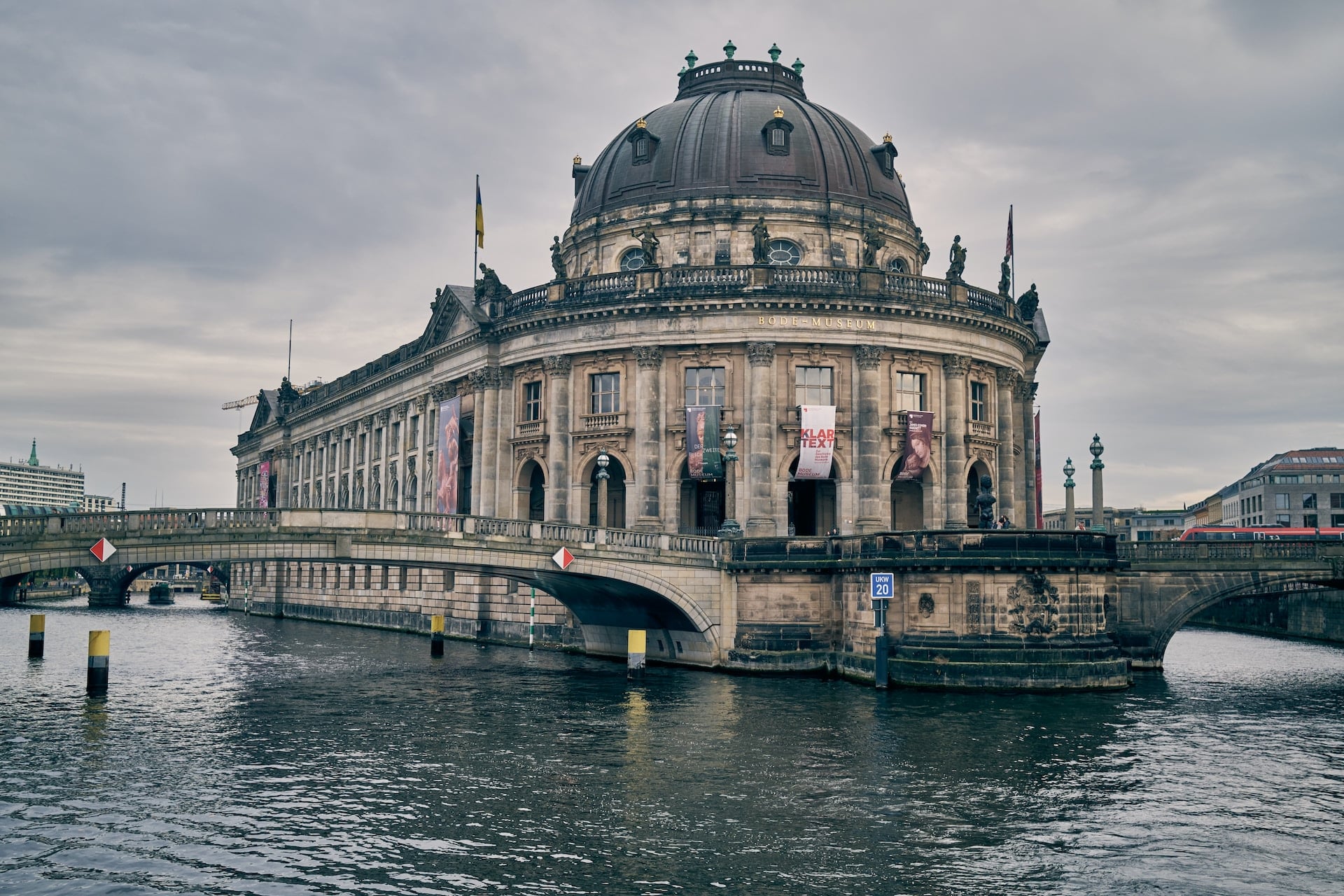 Museum Island: A Cultural Odyssey
Tucked away in the midst of Berlin's bustling streets lies an oasis of history and culture: Museum Island. This UNESCO World Heritage site, nestled between the River Spree's arms, is more than just a cluster of museums – it's a journey through millennia of human achievements.
For a truly local experience, start your day early at the Bode Museum, where fewer crowds allow for intimate encounters with Byzantine art. Then, wander over to the Neues Museum, which holds barbarian treasures and stories from ancient Egypt. But don't just rush from one exhibit to another. Pause in the quiet courtyards, where Berliners often sit to reflect or just enjoy a moment of serenity.
If you're keen on a coffee break, resist the touristy cafes. Instead, stroll off the island towards the Nikolaiviertel area for some traditional Kaffee und Kuchen.
Once refueled, the grandeur of the Pergamon Museum beckons. Its magnificent reconstructions of ancient architectural wonders, like the Ishtar Gate, are awe-inspiring. End your day at the Alte Nationalgalerie, where masterpieces of Romantic and Impressionist art echo the very essence of Berlin: a blend of the old and new.
One last tip: locals often come for evening walks around the island, especially during summer. Join in, watch the museums illuminate, and feel the pulse of Berlin's heart in this remarkable sanctuary of human history.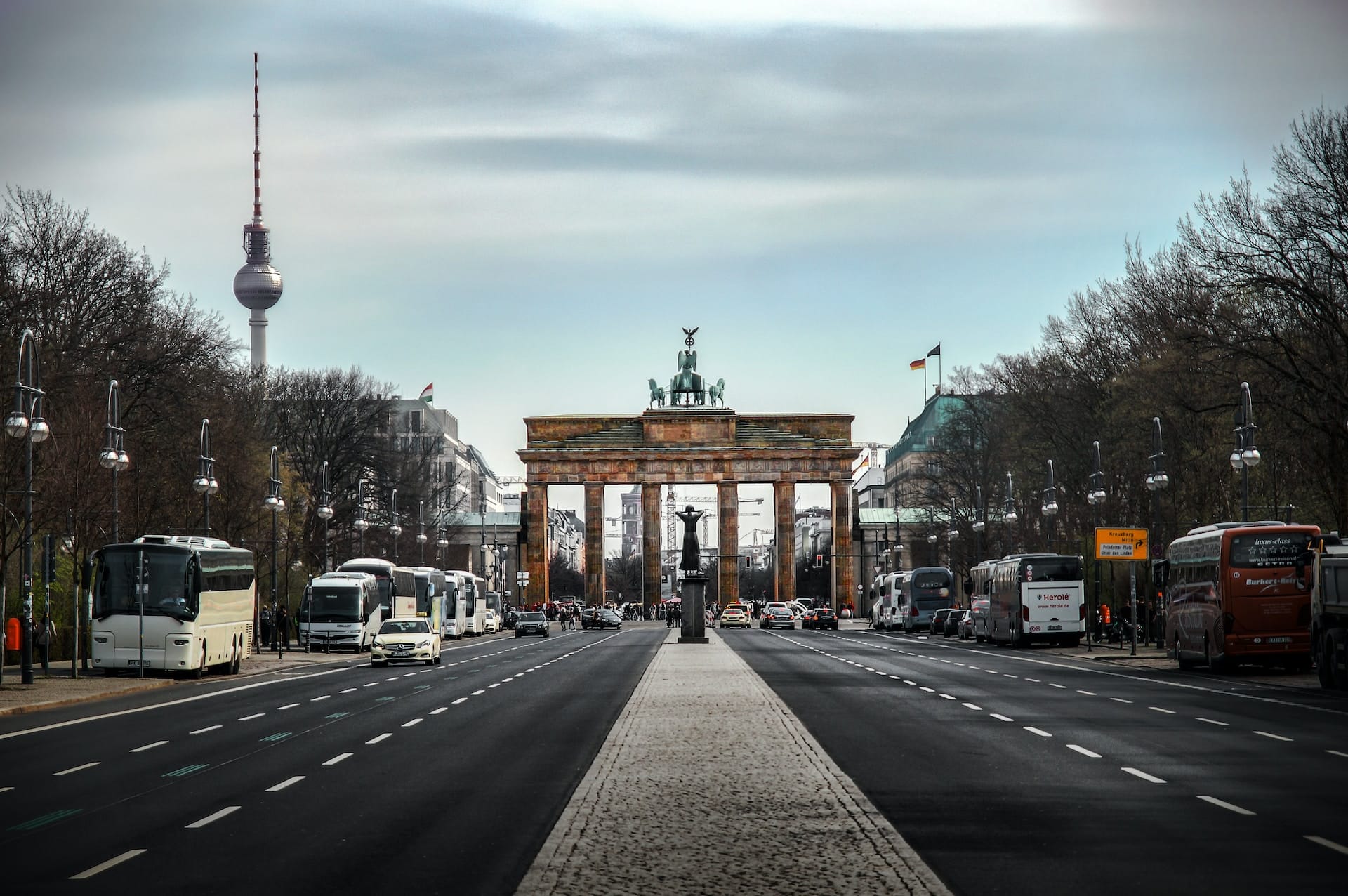 The Symbolic Brandenburg Gate
Standing proud in Berlin's city center is the Brandenburg Gate. More than just a big arch, it's a symbol of Berlin's journey from hard times to unity and a brighter future.
The Brandenburg Gate is an iconic neoclassical monument located in the heart of Berlin. It stands as a symbol of unity and peace, having witnessed numerous historical events in German history since the late 18th century. Over time, it has transcended its original function as a city gate to become a representation of Berlin's past and future. Today, the Brandenburg Gate is not only a must-visit tourist attraction but also a reminder of the city's resilience and transformation.
Visiting early in the morning is a treat. The gentle morning light offers a calm, undisturbed view, perfect for soaking in its beauty. This is when you might spot local artists sketching its outline or photographers framing that perfect shot.
Walking beneath its grand columns, it's easy to be taken back in time. Imagine the stories and history it holds: from joyous celebrations to world-changing events. And as the day fades, watching the sun set behind the gate is a sight many hold dear. The warm glow, reflecting off its stone, is a reminder of Berlin's resilient spirit.
But there's more to the area than just the gate. Hungry after your walk? Move away from the immediate area, and stroll into the nearby Mitte district, you'll discover some great cafes and restaurants. They offer a taste of authentic German cuisine without the expected tourist prices.
Come in the evening, when the surroundings of the gate transform. Soft street music often fills the air here, with locals and visitors alike taking some time to enjoy the moment. Perhaps a guitar or a flute playing, adding to the Gate's surroundings.
In essence, the Brandenburg Gate isn't just a monument; it's where past meets present, where stories unfold, and where the heart of Berlin truly beats.
PGRpdiBjbGFzcz0iX2JybGJzLWZsdWlkLXdpZHRoLXZpZGVvLXdyYXBwZXIiPjxwPjxpZnJhbWUgbG9hZGluZz0ibGF6eSIgdGl0bGU9IllvdVR1YmUgdmlkZW8gcGxheWVyIiBzcmM9Imh0dHBzOi8vd3d3LnlvdXR1YmUtbm9jb29raWUuY29tL2VtYmVkL1RzcTBvbjVpTi1VP3NpPWpaYzY2TUxxWGlEaXdydnkiIHdpZHRoPSI1NjAiIGhlaWdodD0iMzE1IiBmcmFtZWJvcmRlcj0iMCIgYWxsb3dmdWxsc2NyZWVuPSJhbGxvd2Z1bGxzY3JlZW4iPjwvaWZyYW1lPjwvcD48L2Rpdj4=
BERLIN'S ODYSSEY: Berlin Through Time and Imagination
Step into Berlin's most immersive experience, BERLIN'S ODYSSEY. While Berlin boasts centuries of rich history, this attraction gives visitors a peek into the future. Situated in the heart of the city (Within the Berliner Fernsehturm), BERLIN'S ODYSSEY combines the magic of virtual reality with the vibrant spirit of Berlin.
For those unfamiliar, virtual reality (or VR) is like stepping into another world using special goggles. And BERLIN'S ODYSSEY is not just any VR – it's a journey. As you strap in, you'll be transported from the streets of modern Berlin to different times and places. From standing atop the Berlin Wall during its most pivotal moments to dancing in a 1920s Berlin ballroom or soaring over the city like a bird, the experiences are nothing short of breathtaking.
Locals and tourists alike are amazed about it. It's not just a game or a movie; it's feeling history, adventure, and fantasy all rolled into one. And the best part? It's suitable for all ages. So, whether you're showing your kids a piece of history or looking for a unique date night, BERLIN'S ODYSSEY has something special in store.
PGRpdiBjbGFzcz0iX2JybGJzLWZsdWlkLXdpZHRoLXZpZGVvLXdyYXBwZXIiPjxwPjxpZnJhbWUgbG9hZGluZz0ibGF6eSIgdGl0bGU9IllvdVR1YmUgdmlkZW8gcGxheWVyIiBzcmM9Imh0dHBzOi8vd3d3LnlvdXR1YmUtbm9jb29raWUuY29tL2VtYmVkL1pORkFOZS1CTERZP3NpPWEwYV9oUF9ZRWFheklGOTIiIHdpZHRoPSI1NjAiIGhlaWdodD0iMzE1IiBmcmFtZWJvcmRlcj0iMCIgYWxsb3dmdWxsc2NyZWVuPSJhbGxvd2Z1bGxzY3JlZW4iPjwvaWZyYW1lPjwvcD48L2Rpdj4=
Introducing the New Experience
A new experience called BERLIN'S ODYSSEY – THE BERLINER FERNSEHTURM DISCOVERY has recently been launched at the Berlin TV Tower. Learn about how the tower was built and see parts of it that were never revealed before. Enjoy a staggering 12-minute virtual reality show with the best 3D animations and 360-degree real video footage which you'll never forget!
If you want a break from traditional sightseeing and are eager to taste Berlin's tech-savvy side, make sure to book a slot at BERLIN'S ODYSSEY or BERLIN'S ODYSSEY – THE BERLINER FERNSEHTURM DISCOVERY. Remember, Both experiences are quite popular, so booking ahead might be a good idea. Dive into Berlin's stories like never before and leave with memories of both its storied past and the promise of tomorrow.
Conclusion
As your Berlin adventure draws to a close, you'll find that the city has left an incredible impression. From the panoramic views at the Berliner Fernsehturm to the symbolic Brandenburg Gate, each location on this list offers a unique perspective of Berlin. As you gaze at the city's skyline one last time, perhaps from the revolving restaurant in the TV Tower, you'll appreciate the blend of history, culture, and urban innovation that makes Berlin such a captivating city. And even after you've departed, the allure of Berlin will remain, reminding you to return and continue your exploration of this endlessly fascinating city.